New Time Board, New Beginnings
It was about time to replace the old, scrappy, one-lane time board in the Slippery Rock Morrow Field House pool for our SRHS swimmers. The possibility of a new time board was made a reality in August of 2018 because of the generous donation from Debbie Cooper, grandmother of Slippery Rock Club Swim Team Eels members, Mikayla and Miranda Fleeger. The new time board does not only look nice inside the Morrow Field House pool, but the functionality trumps that of the previous board. It is capable of displaying times for all six lanes, unlike the old one-laned board, which was impractical for not only the spectators, but for the swimmers themselves. It is quite annoying to have to wait for times to cycle through on one small board to just get a glimpse of one swimmer's time, so with this new time board, each time will be displayed for all those to see.

Mrs. Cooper said how she enjoys watching her grandchildren swim, both in practices and in meets. She also loves the various friends she has made with other families that also are connected to the sport.

The reasons behind Mrs. Cooper's decision to donate the board, however, lied deeper than her connections with the team through her grandchildren and her love for the sport.

"I was sick last year. I had cancer… I had radiation treatments and everything." Mrs. Cooper explains.

Luckily, Mrs. Cooper overcame the cancer and is healthy today. This is not to say that the experience with cancer did not change her, because it really had a drastic change on how Mrs. Cooper viewed the world around her.

"That just changes how you look at things, and what is important. I just thought it was something I could do because I was very thankful that I got better, because I saw a lot of cancer patients not get better."

Mrs. Cooper's fight with cancer really opened her eyes to the real treasures in life, which include all her friends and family. No amount of money could replace these precious things in life, and she thought why not spend the money to improve the lives around her in which she cared so much about? A new time board may not seem like much in the eyes of many, but Mrs. Cooper is very aware of the local swim community's gratitude and overwhelming thankfulness for her thoughtful donation to the team.

Mrs. Cooper was met with immense gratitude at the summer club swim team banquet where she announced her donation of the board officially. She will never forget the personal and sincere thanks that she received from all of the club swim team members that night. The club swim team is not the only one benefiting from Mrs. Cooper's donation, since our very own high school swimmers swim in the very same pool. Because of this, SRHS Swim Team will also show their gratitude towards Mrs. Coopers incredible donation to our swim community that will greatly improve this season and many to come.
Leave a Comment
About the Writer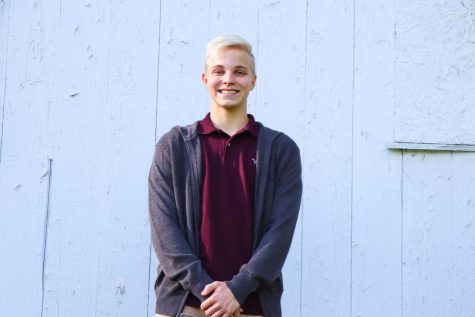 Heston Suorsa, Staff Writer
Heston is a simple man with a simple plan just trying to get through his senior year of high school....