Prom 2017
The high school prom was held on Friday May 5, 2017 at the Cranberry Marriott. The theme of the prom was Once Upon a Dream. The prom was organized by Mrs. Benjamin and the junior class officers with the help of Mrs. Elford and her students.
The students on prom court were Nikki Baptie, Hannah Bortmas, Brady Dalton, Mari Reott, Ansley Shaffer, Hannah Willison, Jeff Bennett, Jonathan Maines, Evan Maxwell, Coulter Walker, Zach Vandyke, and Danny Williams. Grand March started at 4:00 in the gym, where students and their dates could show off their gorgeous gowns and classy tuxedos. Hannah Bortmas and Danny Williams were crowned Prom Queen and Prom King at the conclusion of Grand March.
Prom attendees arrived at the Cranberry Marriott at 6:00. Cupcakes from Pennie's Bakery in Butler along with a candy bar were available for students to snack on before the main course arrived. Students and chaperones were treated to a gourmet dinner before dancing the night away with music played by DJ Ryan Cole.
Junior class advisor Mrs. Benjamin said, "I enjoy working with the students and seeing our ideas come to fruition. Working with Mrs. Elford is always exciting because she has a wonderful vision and brings those ideas to life during Grand March."
Senior Hannah Bortmas said, "My favorite thing about prom was seeing everyone all dressed up." She added that "It was also great to see everyone having such a fun time and enjoying themselves."
Sophomore Chyenne Ragle said, "My favorite part of prom was the DJ because he let Brady Eury sing a song and let people use the microphone."
Sophomore Michael Antal explained that his favorite part of prom was dancing with all of his friends.
Senior Lauren Kingerski said, "I really enjoyed prom. I thought they played good music and they did a good job with the Grand March scenery. I just had a really fun time dressing up and dancing with all my friends."
About the Writer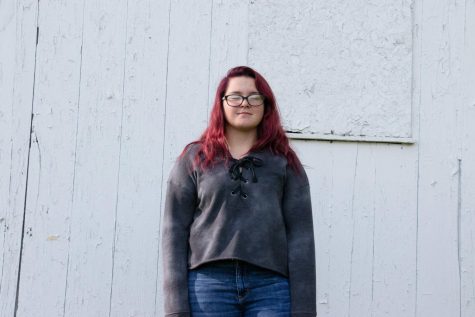 Alexis Schrecengost, Sports Editor
Alexis is a very quiet, funny, creative, and kind person. Alexis likes to write entertainment and sports...