Painting the Plow
Every fall, the Pennsylvania Department of Transportation (PennDOT) holds a competition where they give out snow plows for people to decorate. This year, one of Slippery Rock's own has a shot at winning. Senior Ashton Rider entered the competition earlier this year with Butler Vo-Tech's Graphic Design Program. Out of over 200 entries from students in the program, Rider's got picked as the design they submitted.
Rider described her design as a mural of a superhero, named PennDOT man, who resembled the Green Lantern using his super powers to push snow off the road. She also said the design takes after the designs of comic book panels, with graphic fades and big word boxes.
The process of putting the design was a bit difficult according to Rider. She claimed that they only had two and a half weeks to make the design that would fit onto the plow, causing her to work plenty of late shifts.
In the end, though, it was all worth it to her. She said she was extremely excited once she saw her design on the plow.
"I feel so proud and it amazes me just seeing that I did that," said Rider.
Now all that remains is the competition.
There are two judging systems that decide the winner. The first is by professional judges. However, the more important one is the Facebook vote. If you go onto PennDOT's Facebook between now and late December, you will be able to vote for Rider's plow to be the overall winner of the contest. The winner receives an award and an official ceremony.
No matter the outcome of the contest though, you will still have the chance to see her plow on the road in Butler throughout the winter months. So as you attempt to maneuver through those snowy roads this winter, never fear, for PennDOT Man is here!
Leave a Comment
About the Contributor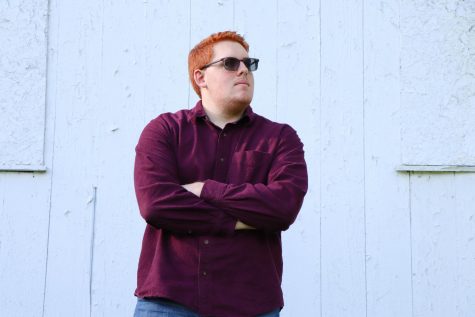 Kenneth Foran, Staff Writer
Kenneth Foran is a very independent and imaginative person. He enjoys writing any type of story and editing...