Road to Vice Principal
When the students of SRHS think of Garret Miller, we picture a man in a dress shirt and tie. We often forget that Mr. Miller, who at some point most likely went by Garret, once wore a letterman's jacket, and still had a multitude of decisions to make before becoming the latest assistant principal at Slippery Rock Area High School.
Mr. Miller had always thought he would end up in education, even when his priorities were obviously somewhere else.
"I said… I want to be a history teacher as soon as I retire from being a professional football player," says Mr. Miller on his childhood aspirations. Though he had his future planned out, there were a few bumps in the road on his way to working in education. 
The first bump being the fact that he listened to his own childhood teachers. According to Mr. Miller, his former teachers told him "'You're better than [teaching]. You can make more money doing something else," he states. "So I went into college, even though I have lifelong wanted to be an educator… as a computer science major."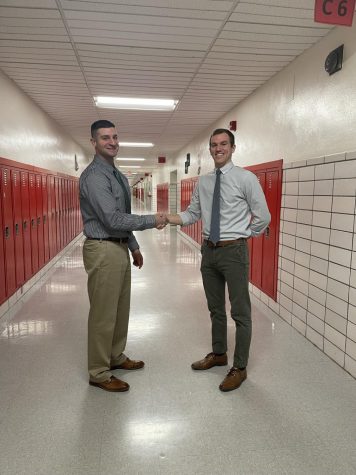 So, he entered Allegheny College in Meadville, PA, planning to pursue a computer science degree. Though he went for an education, there was something else taking him to Allegheny, and even kept him there for an extra semester… football. Mr. Miller dekated his transfer to SRU.
"The only reason I [stayed at Allegheny College] was so I could play one more season of football because that's the fall semester," Mr. Miller states. "Not a very financially smart decision."
So, after finding out that computer science was not where he excelled and he decided to "quit chasing dollar signs," he made the decision to transfer to SRU and pursue an undergrad in history. This is what he refers to as his "midlife crisis at 19," which one can only hope is a hyperbole. SRU also housed an opportunity other than just a history degree for Mr. Miller: an ROTC program. With the ROTC program, he was able to not only get his undergraduate, but also work towards becoming an officer in the military. This, however, did not deduct from his secondary education, due to the fact that things like basic training happened in the summers. 
Mr. Miller is currently still active in the military at the moment, through the National Guard, and has been since March of 2013. 
Garret Miller's journey to Slippery Rock High School is also a little bumpy as well. His first position was subbing for Senora Hazi for about seven weeks while she was on maternity leave. Though he is not fluent in Spanish, he claims the following, "I know enough to teach it for a few weeks." He later subbed for Mrs. Bollinger. Then, in 2016, he was hired in a full time position to teach social studies, and he did just that until another opportunity arose. 
Though the ex-computer science major entered education with the intent of being a teacher, experimenting with leadership in the military as a platoon leader prompted him to show an interest in administration. This then led to pursuing a masters' degree in 2017, which he graduated with in 2019. In the summer of 2021, Mr. Basham stepped down from the role of vice principal of SRHS. Having received his masters' degree that qualified him for the position just two years before, Mr. Miller decided to take a shot at the job.
This shot paid off. Now, he is not just confined to a classroom, but instead can be found in the cafeteria or roaming the hallway when he is not seated behind his desk in the room labeled VP. He says he does this in order to connect with the students and in hopes to create a better school environment. 
All in all, his hopes for the students are summed up with one phrase: "It's cool to give a crap," he states, which admittedly seems a bit uncommon for an administrator on the surface, but, with a bit of thinking that statement makes a bit more sense. It means that it is impressive to know an answer and raise your hand and declare it. It means that it is admirable to try so hard at the things that you care about, even if you fail a few times in the process. In the end, he uses the quote in an attempt to connect with the student body, the goal he entered the position with in the first place. 
Leave a Comment