A Sneak Peak Into Mary Poppins
This year, Slippery Rock High school will be performing their own rendition of Mary Poppins the musical on March 28-30. The tickets are $8 each and can be bought on on showtix4you.com. This version of the Musical is very close to the original, but there are so many different versions that not one is completely alike.
"The problem is, there's so many different versions of Mary Poppins. It's like you have your Australian version and your London version. And like even our score that we have is not identical to either of them. So it's learning that for practice that's really hard, but yeah, I'd say it's pretty close." Said sophomore Anna Christy who is a dancer and Toy.  
There are about 60 crew members in total and all of them practice and work hard everyday as the performance date approaches. The the crew had to perfect new, complicated dances and songs as well as help in putting together their own costumes. The musical crew had to learn all the steps and moves for six songs, including Supercalifragilisticexpialidocious and Jolly Holiday. Ashley Rogers is this year's dance choreographer and both she and Mrs. Dalcomo change and tweek the dances to fit the vibe that Slippery Rock is giving to Mary Poppins.
"For example, step in time is a tap number, but there is a cadence sequence in the middle of it that we actually decided to do all on our own." said Mrs. Dalcomo. 
When it comes to costumes, the school provides some but everyone brings in their little article to help out, such as "Costume Moms," says Anna Christy, "it's like moms of the people in musical come in with like bags of clothes."
Mrs. Dalcomo and Mr. Shields are known to be a little hard on the musical crew, 
but it all pays off in the end. Both directors worked and worked to perfect and add new, surprising things to wow this year's audience. Mr. Shields won't hesitate to tell you when you're off key and Mrs. Dalcomo wants all the dancers in perfect sync with each other. But it is undisputed that Mrs. Dalcomo knows what she's talking about, when asked about how many musicals she's directed in the past she said, "This is my 17th show. Yeah, so a long time. Only my third here at Slippery Rock, though."
There's a new surprise added to this Slippery Rock musical, three of the characters will fly across the stage into the audiences' hearts. Mary Poppins, played by Emma Magliocca, Burt, played by Jace Franco, and Miss Andrew, played by Hannah Confer will be hoisted in the air. Normally Miss Andrew doesn't fly, but in the Slippery Rock rendition she gets to soar with the best of them.
Mary Poppins will be taking place from Thursday, March 28th to Saturday the 30th. The tickets are $8 and can be purchase them on showtix4you.com.
Leave a Comment
About the Contributor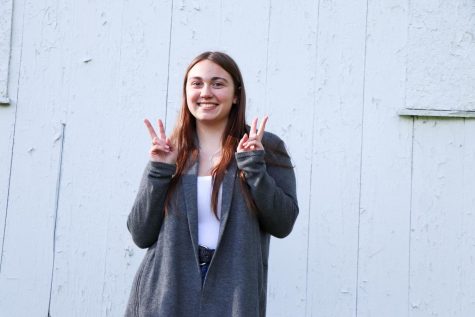 Olivia Tiche, Staff Writer
This is Olivia's first year in Rocket Media. She is a stubborn, bright, and silly editor-in-training....