In Norway with Ben Shumway
Ben Shumway, a senior from Slippery Rock High School, recently left for Norway as part of the foreign exchange student program for the duration of the 2017-2018 school year. Out of all of the places he could go, he chose Norway, because that is where his ancestors came from and also because he has always had a passion for Viking and Norse mythology.
This may seem unthinkable for some people to do, but for Shumway, he did it because "I needed something different from what Slippery Rock could give me. I needed to see other cultures, and expand my worldview."
Shumway still goes to school while in Norway, but says that it is different from American schools. He explained, "School is really relaxed and based on you taking responsibility for yourself and your actions." He compared it to college, because every day of the week he has a different schedule. He also has days where he starts at 10 am and others where he ends at 12:30 pm.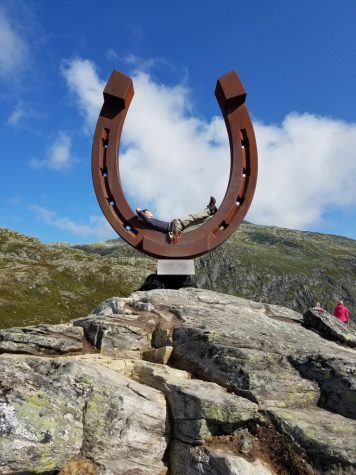 Shumway said he has had exceptional luck making friends, which he finds interesting because "Norwegians are very closed up and shy to strangers." During his free time, he likes to hang out with friends, but cannot do this often, because most of the time his friends are busy with clubs, sports, working, or doing school work. When he can't hang out with friends, he plays his guitar, takes mountain trips, or travels around Norway with other exchange students. Shumway is currently trying to get into a music school so he can improve his music skills. This requires separate schooling from the school he is attending currently.
Shumway says that he misses his friends and family, but does not miss home. He does keep in touch with family and friends through different social media sites such as Snapchat and Facebook. He is set to return on June 28th but said that he will more than likely change that date to July so he can spend just a little more time in the country of his ancestors.
You can read more about Shumway's adventures in Norway by visiting his blog, Day Long Nights.