A Season of Sharing
In Slippery Rock High School, there is an abundance of good will and charity, especially when Christmas rolls around. The students and staff set up different ways to give back to the community, such as  through the Rocket Closet, collecting canned food donations, or by sending Christmas presents overseas through Operation Christmas Child,. These school-sponsored events give back to the less fortunate both in and outside of the community.
In past years at Slippery Rock, the giving tree was a tree set up outside the front office. Unlike many other Christmas trees this one was special; instead of being decorated with lights and ornaments, this tree was decorated with donated clothes that were in lightly-used condition. These clothes could be anything, such as hats, hoodies, pants, shirts, gloves, etc. The clothes had to be moderately new or lightly used and the clothes went to students who could not afford warm clothes for winter. This age old-tradition has now been replaced with the Rocket Closet.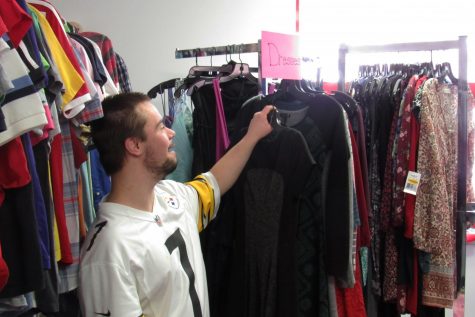 The Rocket Closet is a room near the cafeteria that has the same things as the Giving Tree, but also includes other amenities such as deodorant, tooth brushes, coats, and boots. The Rocket Closet was created by Mrs. Marini with the hopes to help less fortunate students. The Rocket Closet is maintained by Mrs. Paxton's students like Dalton Walker. Any student who needs clothing for any reason is welcome to browse the Rocket Closet. Just see Mrs. Marini.
Recently, the Interact Club hosted their first "Breakfast for Dinner" fundraiser to raise money for hurricane victims in Puerto Rico. The event was a dinner with pancakes, eggs, bacon, and fruit, thus the name. The Interact Club hosts two events like these per year – one local and one international – and this event was the international event. The president of Interact Club, Ashley Rodgers, said that they raised $315.65 to donate.
At "Meet the Team Night," the Fellowship of Christian Athletes (FCA) Club collected canned food donations as admission. Meet the Team Night is a night where all the winter sports teams are first announced, and after that competitions are held between the teams.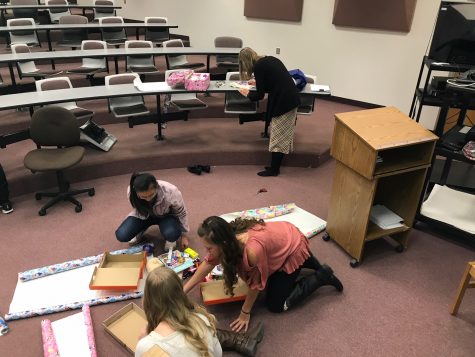 Not only did the FCA sponsor "Meet the Team Night," but they also participated in Operation Christmas Child. Operation Christmas Child is a project of Samaritan's Purse, described as an international relief organization on their website. Their mission is to provide local partners around the world with shoe boxes filled with small toys, hygiene items, and school supplies as a means of reaching out to children and providing them with Christmas presents. To participate, you must pack a shoe box with some of the items above and drop it off to a designated location which will ship your box worldwide to a child in need.  For many of the students in FCA, it gave them a sense of pride for helping the less fortunate.
Freshman Qin Raisley explained, "It's good knowing the shoebox is going to a kid who does not have much."
Freshman Lauran Pflueger also said that "It made me happy because most kids don't have what I have."
In addition to students embracing this season of sharing, teachers are as well. Mrs. Elford, with help from her sister, started a program called the Everybody Wins Toy Sale five years ago. Mrs. Elford said that she came up with this idea when she was walking through Walmart. She saw how expensive the toys were, and thought if only there was a yard sale to buy inexpensive toys, so Mrs. Elford started one of her own. The toy sale takes gently used and clean toys and sells them, and teachers from SRHS donated to the cause. All the money gained from the toy sale goes to a shelter for domestic and sexual abuse. When the day comes to sell the toys, Mrs. Elford said that she gets volunteers to help her judge how much each toy is worth. Then, at 9:00 am they start selling the toys, and after 2:00 pm, all the toys left are free to take. This year, Mrs. Elford raised $1294.41 to donate, and over the past five years, they have made over $4,650.
About the Contributor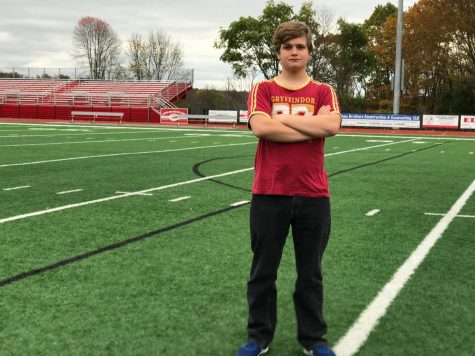 Alex Watt, Staff Writer
Alex is a go-with-the-flow type of person. He is very calm and collected, but at times can be very comical....