The Cutest Couples of 2018
Hang on for a minute...we're trying to find some more stories you might like.
Couples can be found all throughout the halls of Slippery Rock High School, and Valentine's Day is the perfect time for those couples to be recognized. Four couples were nominated multiple times as the cutest couples of 2018 by the student body. Those couples are juniors Heidi Dougherty and Curtis French, junior Mekenzie Pflueger and senior JT Burton, seniors Kaitie Kocuba and Logan Long, and finally, art and physics teachers Mrs. and Mr. Elford.
The first couple voted for multiple times is Heidi and Curtis. They have been together for a little over four months. Curtis first asked Heidi out when they were doodling on a paper in McDonalds and he wrote "Will you be my girlfriend?" and showed it to her. They met in choir class and hit it off. The cutest date they went on is the time they went to the mall and tested out a bunch of mattresses by sitting on them. Curtis loves her personality, and Heidi loves his sense of humor and how he makes her laugh. She adds, "He's funny. He can quote any movie, he plays the bass, he has hair longer than me, and his laugh is adorable."
The second pair nominated as a 2018 cute couple is Mekenzie and JT. These two have been together for about two years, and their relationship began when JT asked Mekenzie to be his girlfriend when they walked to the Slippery Rock Community Park after school. They met through Mekenzie's and JT's best friends, Alex Lavan and Mackenzie Callihan. This led to Mekenzie and JT meeting, and later on, they started dating. They both say the cutest date was when they want to a few country concerts together, including Florida Georgia Line and Brantly Gilbert. JT says that he loves Mekenzie's smile and personality, and Mekenzie states that she loves "That even though he won't admit it, he has a big heart and cares a lot about people."
Kaitie and Logan were the third couple nominated for the 2018 list. This couple has been dating for just over a year, and Logan asked Kaitie to be his girlfriend while waiting in the line at Cheeseman's Fright Farm. Their cutest date in Logan's opinion was the time they played basketball in the driveway of his house right after school. Logan stated that "[Kaitie] fell in the mud and laughed, and that was the moment I realized she was probably the best thing that had ever happened to me." Afterwards, the two went to dinner at Red Rock Falls. Logan said that his favorite thing about her is how passionate and nice she is, and the fact that she always sees the bright side of things. Kaitie's favorite thing about Logan is how outgoing he is, and how he's not one to judge others.
The final cutest couple of the year is well known mainly because of their identical last names: Mrs. and Mr. Elford. This couple is much different than the rest of the couples you see in the halls, because they have been together since 1994 and met each other in a rather unique way. They first met at Pennsic, a medieval event held at Cooper's Lake in Slippery Rock each summer. They both planned to go to IUP, which is when he gave her his number and they started talking after Pennsic. At IUP, Mrs. Elford says, "I fed him dinner and he never left." Mr. Elford added, "I inadvertently ate all of her food for the week in one meal." Although Mrs. Elford specifically told him that she did not want a boyfriend, Mr. Elford kept showing up to her place, and eventually succeeded in starting a relationship with her by just asking "Please" repeatedly.  Mrs. Elford loves that he is open-minded and adores her. Mr. Elford loves how adventurous and creative his wife is.
The cutest couples featured in this article are only the beginning of the couples in this school district, both among students and staff.
About the Contributors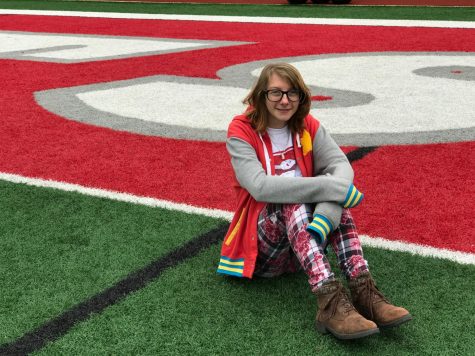 Sami Edwards, Staff Writer
Sami is creative, bubbly, sweet, and an easy person to approach! She's good at and enjoys writing news...