January Students of the Month
Each month at Slippery Rock High School, one student from each grade is chosen by their teachers to be selected as the student of the month. In December, senior Autumn Painter, junior Quinn Cypher, sophomore Panyue Zhao, and freshman Hannah Burtner were selected as the students of the month.

Autumn Painter 
Autumn is the senior class president, but even a president has to unwind. In her free time, Autumn says that she can be found watching Netflix and hunting whitetail deer. Autumn said she is thankful to the teachers who recognized the works she put in, stating, "I really appreciate the hard work the teachers put in, which enabled me to reach the level of success I have been able to achieve."

Quinn Cypher
Quinn is a junior who enjoys drawing and playing the bagpipes in his free time. He states that his favorite subject is math and his favorite teacher is Mr. Elford. After school, Quinn plays soccer and listens to old rock and roll music. Once Quinn was found out that he was elected student of the month, he says that he felt a mix of confusion and happiness. Quinn also added that he is appreciative for teachers noticing all the hard work he is putting in, both day in and day out. 
Panyue Zhao
Panyue is a sophomore from Nanchang City. This is located in the Jiangxi Province at the south-eastern part of China. She came to America because her father was a visiting professor at Slippery Rock University over the past few semesters. Panyue recently moved to Texas to be with her mom, who is now a visiting professor at Texas A&M University. In her free time, Pan likes to draw and write. Teacher Mrs. Glenn adds that Pan was also very talented in science and math.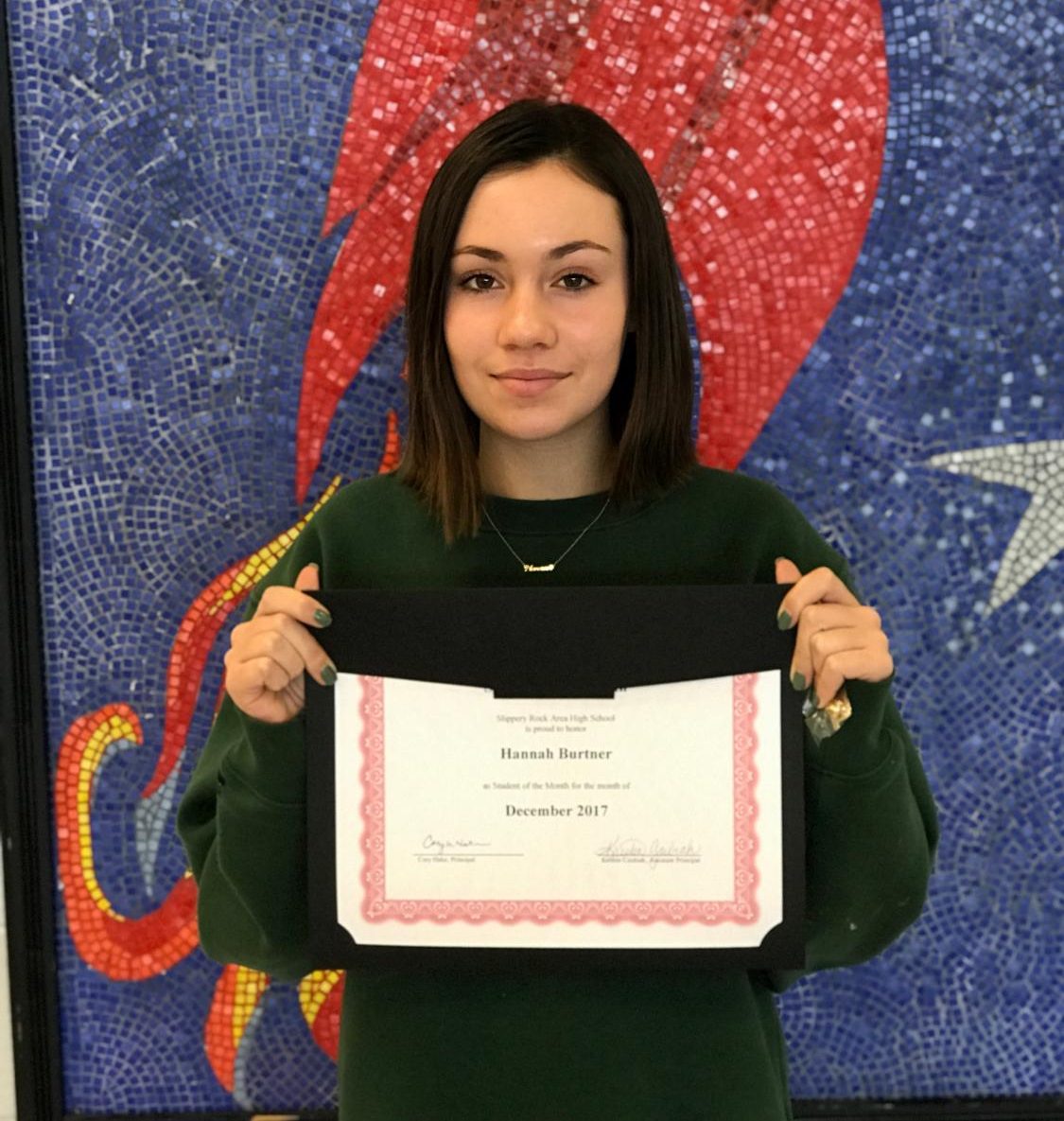 Hanna Burtner
Hanna Burtner is a freshman, and like all other freshmen, she is new to the high school this year. Burtner explains that she feels that the high school is definitely a step up from middle school. Her favorite subject is history, and as a result of that, her favorite teacher is Mr. Burtch. In her free time, Hanna states that she plays soccer and also likes to draw and paint. After finding out she was elected student of the month, Hanna explains that she felt both excited and shocked to be chosen. Hanna would like to say thank you to all the teacher who helped her become student of the month.