A Deep Dive Into the Water: Fishing Fans of SRHS
Certain students and teachers at Slippery Rock High School are interested in freshwater fishing, including Garrett Regalski, Kaden Kopp, Gregory Fleeger, Ms. Morrow. These individuals like to go to lakes and ponds around the east coast whenever they get a chance. Some enjoy fishing on shore or in a boat, depending on the species. Most of them go fishing with family members or friends, and many first started fishing when they were young. 
Garrett Regalski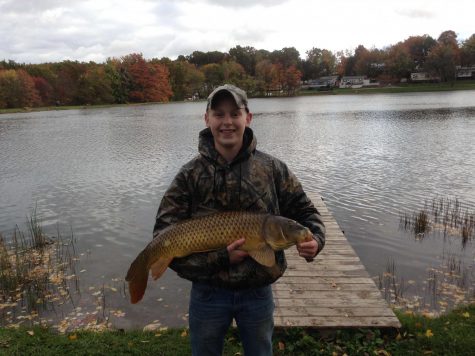 Junior Garrett Regalski fishes for bass, catfish, trout, walleye, muskies, and anything else in freshwater locations. His favorite places to fish are Lake Okeechobee in Florida, which is also called Florida's inland sea, and any pond with thick grass mats. Regalski started fishing when he was four, but got more into it when he was 15. He says he loves fishing because he loves being outdoors and around nature. Regalski's biggest catches have been a 9.9 lb large mouth bass, a 43 lb carp, and a 48 inch muskie.
Regalski has also fished in local and national tournaments, and his favorite thing about fishing is flipping beds for giant bass, which is when fishermen put bait in their beds. He says, "It's very addicting." Regalski fishes in both stocked and non-stocked locations depending on the species. He explains that stocked waters include fish brought in from a fish hatchery, and that non-stocked locations are just natural habitats for fish.
Regalski is even a sponsored fisherman due to his YouTube channel, Rippin' Lips Fishing. The companies Badger State Custom Baits, Bass Hole Custom Lures, Dead Weight Customs, Dirty South Lures, Muddy River Custom Lures, Cardinal 151, Keep on 93, and Rv3 Custom Baits send him fishing gear in exchange for Regalski to review the products on his YouTube channel. He says, "Being sponsored is a lot of responsibility and advertising."
For students new to fishing, Garrett has a tip for newbies: "Do not be discouraged if you get skunked; retie, keep fishing, and never stop."
Kaden Kopp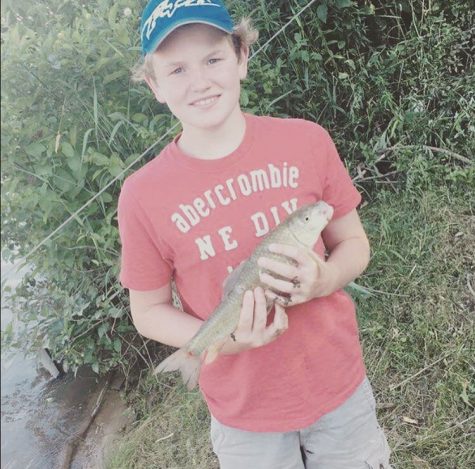 Freshman Kaden Kopp fishes for bass and trout in ponds in his free time. Kopp has been fishing for roughly twelve years. He says he has learned so much since he started fishing at age two, and the biggest fish he caught was a 23.8 pound bass.
He says, "It makes me happy when I catch a fish." He likes bass season which is year round except April- June which is a no-harvest time.
Kopp prefers going where the fish are stocked. He used to be a sponsored fisherman, and explains that he used to get t-shirts and fishing supplies when he was sponsored. He prefers shore fishing because it is time consuming to pack and load everything into a boat. For shore fishing in most spots, fishermen can just carry all of their supplies in a backpack and go.
Gregory Fleeger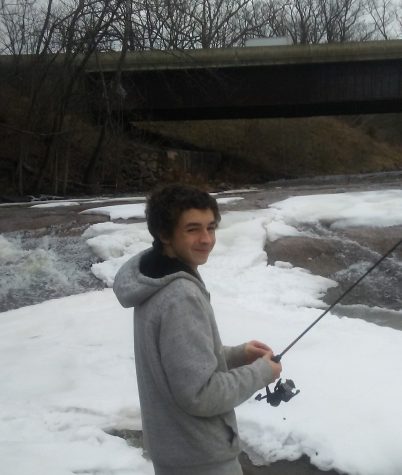 Freshman Gregory Fleeger enjoys going fishing for bass, salmon, stripper, catfish, and trout. His favorite place to fish is Erie because "You get really nice fish there," he states. He started fishing when he was three years old, and over the years he developed more interest in it. He likes the adrenaline rush he feels when catching a big fish. He goes fishing with his older brother, his dad, and his stepbrother during the summer.
Fleeger says, "Fishing is a relaxing way to get out of the house." The biggest fish he has caught was a 2 foot long salmon in Erie. He fishes in heavily stocked areas because there is a higher chance of getting a fish. He decides to keep or release each fish, depending on the size.
Fleeger says he prefers fishing on a boat because you are not trapped in one spot. His most memorable time fishing was when his family went camping and went fishing in a canoe on the river. His tip for newbies is "Do not let go of your pole."
Ms. Morrow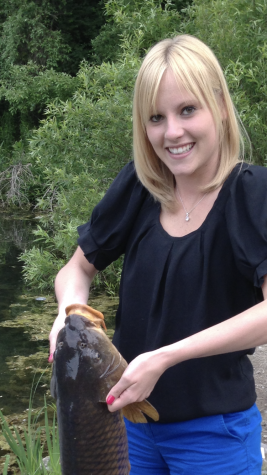 Ms. Morrow is a teacher at SRHS who likes to fish for trout and bass. Her favorite place to fish is a state lake in Bessemer. She started fishing when her grandfather started taking her when she was two years old, and she still goes fishing regularly with her dad. She enjoys fishing because it is very relaxing, and she has always loved fishing because being outdoors is so refreshing to her.
She has caught a 12" palomino and a 36 lb carp. Her favorite season to fish is in the spring when the trout are first stocked. She also helps stock Little Sewickley Creek. To stock the creek, they bring in the truck and either pump or bucket the fish into the creek.
Ms. Morrow has fished many places that are stocked, but she also likes fishing in a few private lakes. She says she prefers fishing on shore because she is not a fan of boats.  Her tip for newbies is "Do not throw your pole in the water if you get skunked."