Even When They Lose, They Win
Football Team Works Together to Improve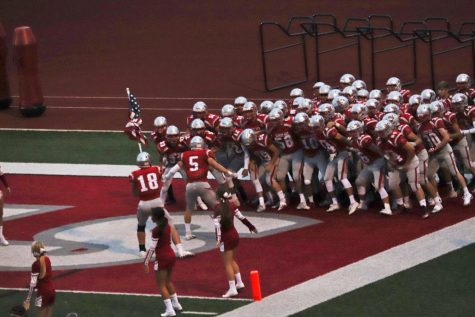 On September 21st, the Slippery Rock Rockets fought against their old rivals, the Grove City Eagles. In this game the Grove City Eagles left the Rockets with a face of defeat. By the end of the night, the scoreboard read 33-7, Grove City. Even though they lost, the Rockets prepared really hard for this game.
"Each week is like a Super Bowl game for us, we just need to focus on that game,'' stated varsity captain Kaleb Kamerer.
Last week during the homecoming game, Slippery Rock lost to Sharon 30-27. Every win and loss is important and impacts each player individually.
"I needed to be more aggressive and get involved with their outside run game," said sophomore Ethan Plesakov.
This could affect how Slippery Rock plays other schools for the rest of the season. Not only do their attitudes determine the outcome of the season, but their play style. The Rockets are still improving and limiting the amount of mistakes made on the field each game.
As Kaleb Kamerer suggests, "[If you can] limit the turnovers and the penalties, you will most likely win the game."
Even though they lost the Grove City game on September 21st, they are still hopeful for a winning season. Even with their 3-2 record, they hope to improve as the season passes by, not only as an individual, but as a team.
Leave a Comment