Juniors vs Seniors: Powderpuff
The Junior and Senior girls go head to head for Third Annual Powderpuff Game
On Thursday, November 8th, the student council hosted their third annual Powder Puff game. The High School Powder puff game is organized by SRHS's student council along with Mr. Sarver and the Ski Club who help to decide the officials, and decide when the sign ups and coordinating practices are. Powder puff is a football game where a team of Junior girls play against a team of Senior girls. There were more Junior girls in the game compared to the team of Senior girls.
"
It doesn't matter if you play a sport or what sport you play, you kind of just get to go out there and be a part of it."
— Ms. Gallagher
Along with organizing the game, the students created raffle baskets for the event. There were seven baskets, each having a theme. Some of which included, Christmas, Pamper Me!, Sugar Cookie, Scratch N' Win, Pampered Pooch, Ginger Bread, and a Give Thanks, themes. In the Sugar Cookie basket it included three cookie dough mixes, sprinkles, icing, a candle, wooden spoons, a hot mit, dish towels, mixing bowl, and a cookie cutter. Also, in the Scratch N' Win it has a movie night(four movies) popcorn, boxed candy, and popcorn containers. Lastly, a dog bowl, mouse toy, collar, tennis balls, a Frisbee, bandanna, dog chow, magnet, and dog treats were all included in the Pampered Pooch basket.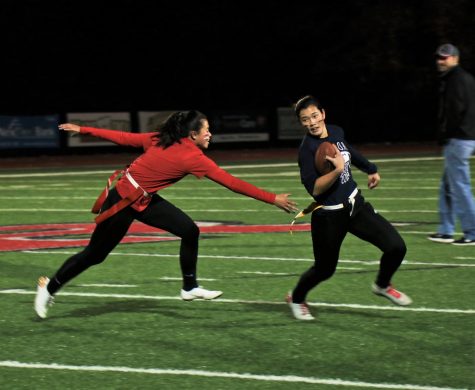 Guidance Counselor Ms. Gallagher says that she enjoys this event for the, "Fun opportunity for the girls to get out there and play. It doesn't matter if you play a sport or what sport you play, you kind of just get to go out there and be a part of it. Also, the boys that coach are typically football players and I think they have a fun time with it too."
To prepare for the game "the coaches scripted plays and the girl practiced them one at a time, really hard," says one of the two Senior coaches, Kaleb Kamerer. He also states, "The seniors had to redeem themselves after last years loss." And that his favorite part was "Kicking the Juniors butts!"
Junior Darrah Lynch participated in the powder puff game because, "it would be a fun activity to do and because my boyfriend plays football." Lynch says that her favorite part of the game was "hanging  out with Chloe Sommers and just having fun."
Leave a Comment
About the Contributor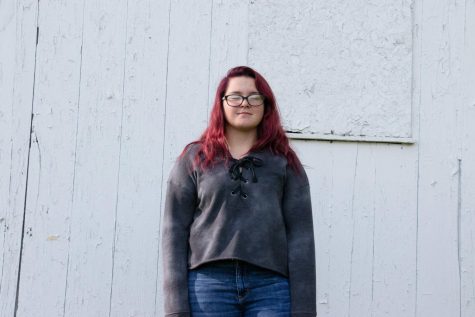 Alexis Schrecengost, Sports Editor
Alexis is a very quiet, funny, creative, and kind person. Alexis likes to write entertainment and sports...