Slippery Rock's Got Talent
Slippery Rock High School held its annual talent show in the auditorium on November 16th, 2018. The talent show had acts that ranged from music, dance, comedy, and magic. The show lured quite a crowd to witness what incredible talents Slippery Rock high school students have to offer. The show was presented by Seniors Tyler Hinkle and John Thompson, who actually displayed a little side show talents themselves; such as comedy, ballroom dance, and their ability to eat popcorn on beach chairs.
The show opened up with an incredible performance by Junior, Kendra Shidemantle, singing "This Is Me" from The Greatest Showman. Then came Senior, Ashley Rodgers, with a beautiful lyrical dance to "Fall on Me" by Andrea and Matteo Bocelli.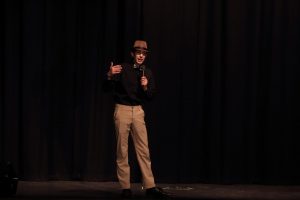 Sophomore Jim Brenneman made us laugh with his original comedy sketch followed by Junior, Abby Self, singing "Swim" by Alec Benjamin while playing the ukulele. Performances from Junior, Callie Kracht, brought us the song "Once Upon A December" from Anastasia.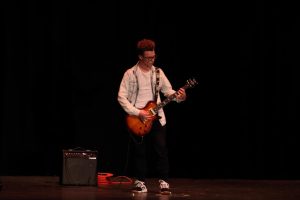 Sophomore, Alex Duffalo, exhilarated us with his performance of "Crazy Train" on guitar.  Then came a powerful performance by senior Kenneth Foran, who sang "The Phoenix" by Fall Out Boy. The duo of junior Katy McWhorter and senior Jacob Cranmer proceeded to take the stage. They sang their version of "Can't Help Falling In Love" by Elvis Presley to end out the first half of the show.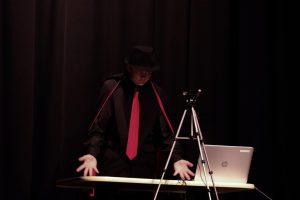 After a short intermission, the second half was opened up with Sophomore, Chris Brunsgaard's supernatural magic performance using only a deck of cards, which left the audience mystified. Freshman, Leah Harris, plays the piano and sings "Inscription of Hope" as a touching tribute to the recent shooting in Pittsburgh. Then Freshman, Jacob Snyder, gave us a deep performance of "Sound of Silence" by Disturbed in his fedora.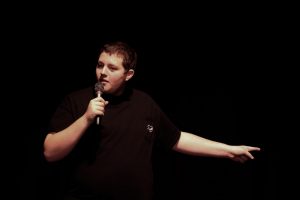 Once again, the audience gets a taste of some more comedy, but this time from Sophomore, Nick Miller, with a sketch by American Comedian Brian Regan, called "Stupid in School," which made the audience rethink how smart people really are. Junior, Callie Kracht, comes back to sing the fun and catchy "Popular" from the musical Wicked.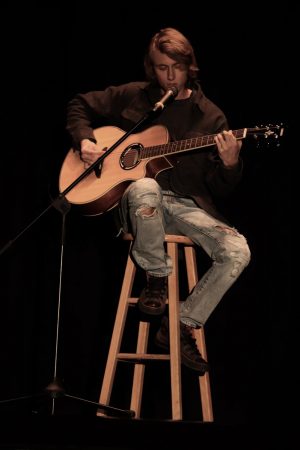 Junior Travis Carpenter plays the guitar and perfectly captures the raspiness within "You Know You're Right" by Nirvana. Another magical song from Anastasia, "In My Dreams" is sung by Junior, Katy McWhorter. Junior, Kendra Shidemantle, again wows the audience with an emotional performance of "Burn" from the popular musical Hamilton.
To end the night, a truly incredible performance by Junior, Devin Eakin, dancing to "Toxic" by Britney Spears, completely blows the audience away.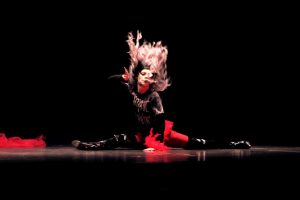 For those who came to last year's talent show, you knew Junior, Devin Eakin, would have something special planned, but this year Devin had planned to make this one bigger and better. When asked what Devin was doing at the talent show, he stated, "I'm dancing. I'm not willing to share. I'm trying to make it a big surprise." And a big surprise is what we got at this year's show, with a combination of spins and jump splits.
Make sure to come on down next year for the next set of talent that Slippery Rock will have to offer!
Leave a Comment
About the Contributor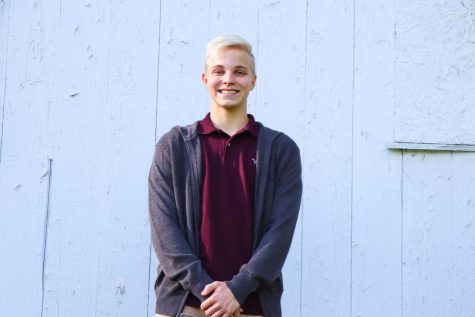 Heston Suorsa, Staff Writer
Heston is a simple man with a simple plan just trying to get through his senior year of high school....