Marching Band Attends Butler Christmas Parade
Hang on for a minute...we're trying to find some more stories you might like.
Right through downtown Butler on November 25th, from 5:30pm to 6:30pm, the 2017 Butler City Spirit of Christmas parade was held following the Candy Land Celebration activities. The overall theme of the parade this year was ¨A Cartoon Christmas.¨
Many people walked or rode through the parade with floats or banners, and one of these groups was the Slippery Rock High School Marching Band. As they walked through the parade route, they played ¨Deck the Halls¨ as the Rock'n-ettes danced to the music.
Many of the band members got festive for the occasion, such as wrapping lights around themselves or their instruments, or wearing Santa hats. The Rock'n-ettes wore Christmas sweaters while they danced instead of their regular uniforms.
Junior Heidi Dougherty said her favorite part of the parade was the nice weather. She said, ¨It was not too warm and not too cold.¨
Junior Madison Ridgeway explained that the band did pretty well for the amount of time and practice they were given to prepare. A favorite part for Ridgeway was when sophomore Cara Dalcamo was playing and the head of the mallet flew off during the parade. Dalcamo caught it and then kept on marching.
Some of the other groups included in the parade were Boy Scout Troops, and a transit bus dressed up like the Mystery Machine from Scooby Doo. The final float to end it all included Santa.
Junior Marcus Howell attended the parade. He said, "It was funny how they had people cheering for Butler right behind Slippery Rock's band." He thinks the parade was really nice to sit and watch, and that everyone performed very well.
About the Writer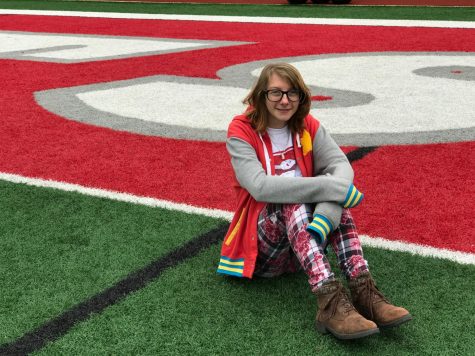 Sami Edwards, Staff Writer
Sami is creative, bubbly, sweet, and an easy person to approach! She's good at and enjoys writing news...